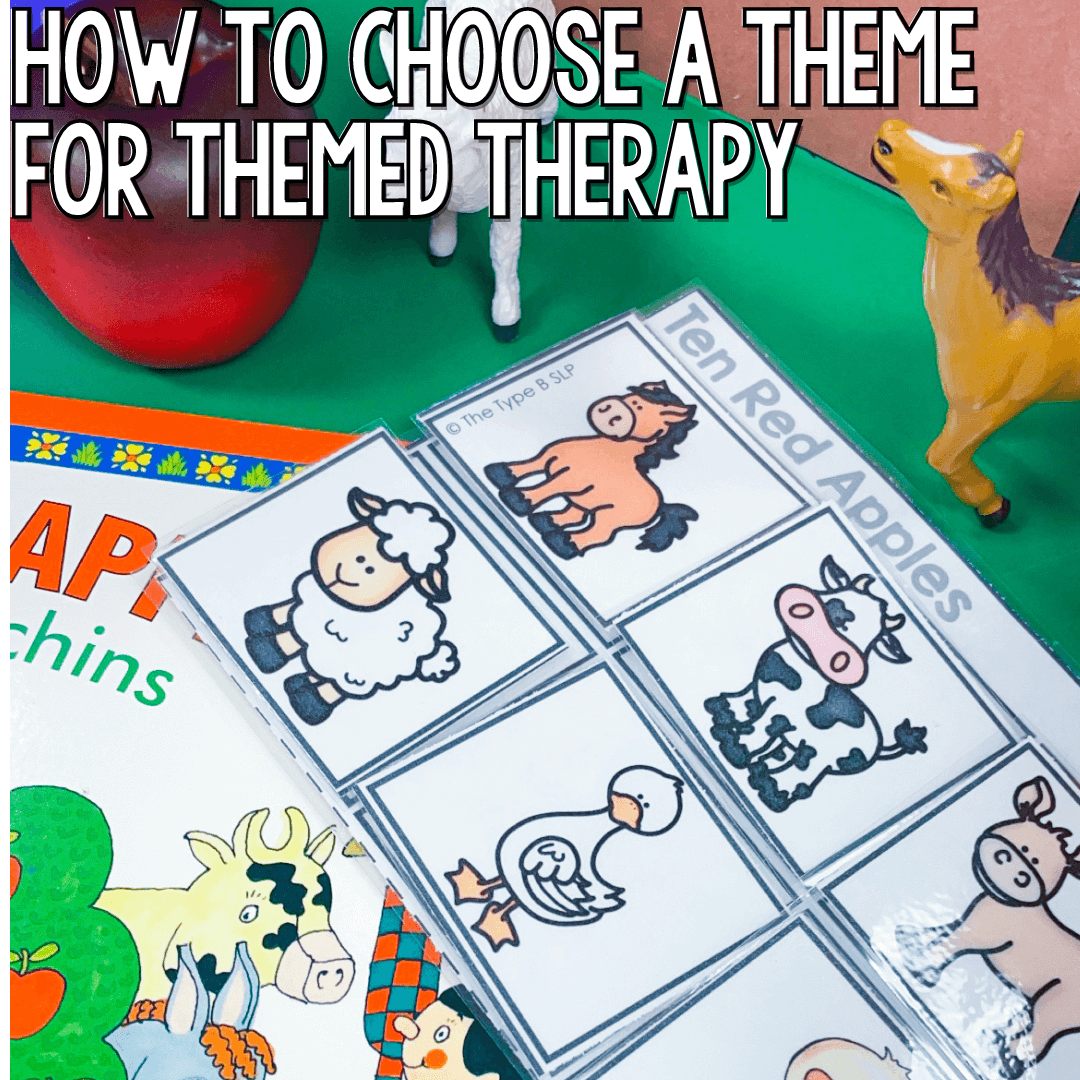 How to Choose a Theme for Themed Therapy!
Last week, I shared my five tips for organizing your themed therapy (if you missed those tips, go read about them here!)​
Today, we're talking about how to choose a theme for themed therapy!
But how the heck do we choose the right theme for our themed therapy plans? How do we know it's engaging enough, or appropriate for our students?
Here's the gist of it:
Let's just jump right in! These are the questions I ask myself when choosing a theme or planning ahead for the year:

1️⃣ Is it motivating/interesting to my students? I like to get a pulse check on my students' interests in the beginning of the school year; I've noticed over the years that there are certain themes that just don't spark much interest with my 3-5 year olds! I don't force those themes, and instead I focus on what will motivate them and get them excited for speech. If they're excited... I'm excited! It also lends a great opportunity to build even stronger rapport and better relationships.
​
2️⃣ Does it connect with classroom curriculum? How can you draw those connections to make them stronger for the student? When I had PreK through High School, I wouldn't have ever chosen a theme my middle schoolers were learning in science, and tried incorporating it with my preschoolers 😝 Or vice versa! Even to this day, I reach out to my preschool classrooms and request teachers share their general overview of the year with me. Majority of theme have their themes planned for the year, which gives me a great jumping-in point! Just last week, many of my PreK rooms celebrated fire prevention week, so I planned accordingly. It makes my life easier, but it also helps immensely with carryover and repeated exposure for my students.
​
3️⃣Take a look at background knowledge! For example— students living in major cities may not have a great understanding of camping vocab/terms, so you'll need to be prepared to supplement their background knowledge and spend a little longer on the topic.
​
4️⃣ Can it incorporate target concepts and goals? How easily can you target your students' goals appropriately with the chosen theme? Sometimes a quick brainstorm session helps! Here's an example: I currently have a high number of students working on /s/ blends. Instead of choosing a general "Halloween" theme for this time of year, I'll be a bit more strategic and choose a SPooky SPider theme or SCary monSTer theme (see what I did there?); I've now widened the door for so many extra opportunities for lots of trials!
​
5️⃣ Can you find enough activities to supplement the theme?? (without breaking the bank?) There are many themes that I just couldn't find enough materials or activities for. Which is why I started creating them way back in 2016! Especially my ultimate thematic units and my themed word list cheat sheets!
Themed Therapy Cheat Sheets for Speech Therapy: GROWING BUNDLE ONE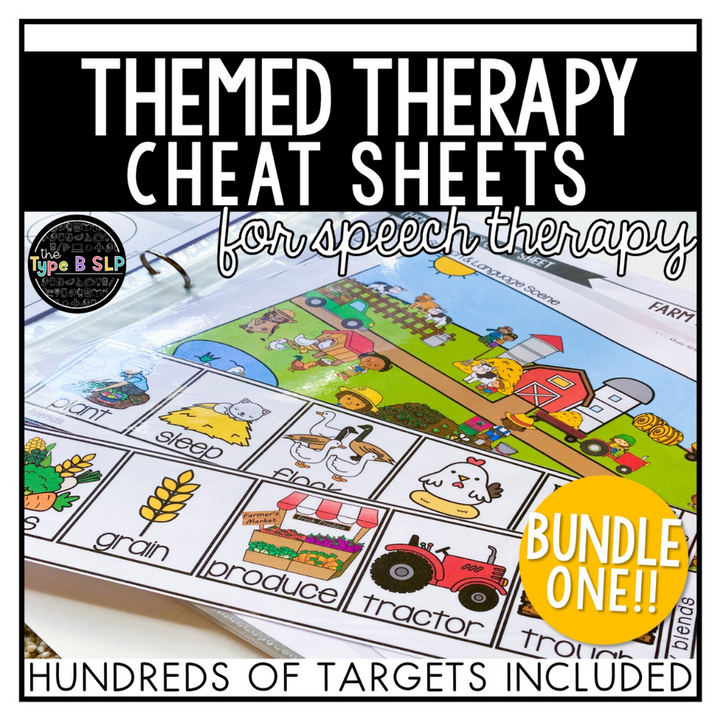 $36.00

Evidenced based CHEAT SHEETS to use alongside ANY themed book, activity, or game related to themes in the bundle! Be sure to download the preview for a complete look at the product!! This HUGE resource will give you access to TONS of therapy targets and… read more
​
6️⃣ What are the opportunities for carryover like? A camping theme is going to be hard to elicit carryover in the middle of NYC… Will you need to get extra creative to support the use of carryover? What type of vocab is going to be most important? Or do you ditch the theme altogether for a theme that can elicit a higher rate of carryover and importance?
I think this is a good time to remember flexibility as well. There have been numerous times I've started planning and working through a theme to then realize, "This is not a theme I'm using again next year..." lol. And that's okay! We learn as we go. I'll never forget when I was working in the city of Atlanta on a unit with my 4th graders, and the SLP I shared a room with looked over at me and says, "I can guarantee 90% of these kids have no idea what it's like to go camping." It clicked for me that I was NOT being strategic with choosing my themes, nor using my questions from above to help me plan!
---
I have a FREE roundup of themes I put together for you in case you need some fresh ideas!
---
I'm loving sharing these themed therapy tips, and I really hope you are, too! I only have a couple left to share with ya. I'll pop back in next week to share how I strategically choose my themed materials (especially if you're asking yourself: how the heck do I know what to buy?).
Here are some of my favorite themed resources that make my life SO MUCH easier!
Ultimate Thematic FALL Unit: The Bundle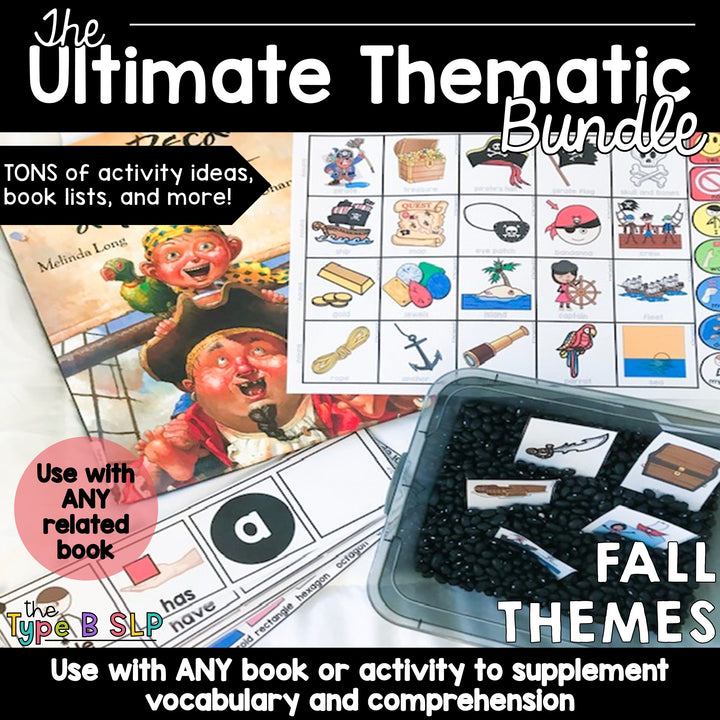 $38.50
Evidenced based companion packs that you can use with virtually ANY thematic book, activity, or game. This HUGE growing resource will give you access to TONS of therapy tools to use with any resource, book, game, or activity related to that theme. This resource includes evidence… read more
Ultimate Thematic WINTER Unit: The Bundle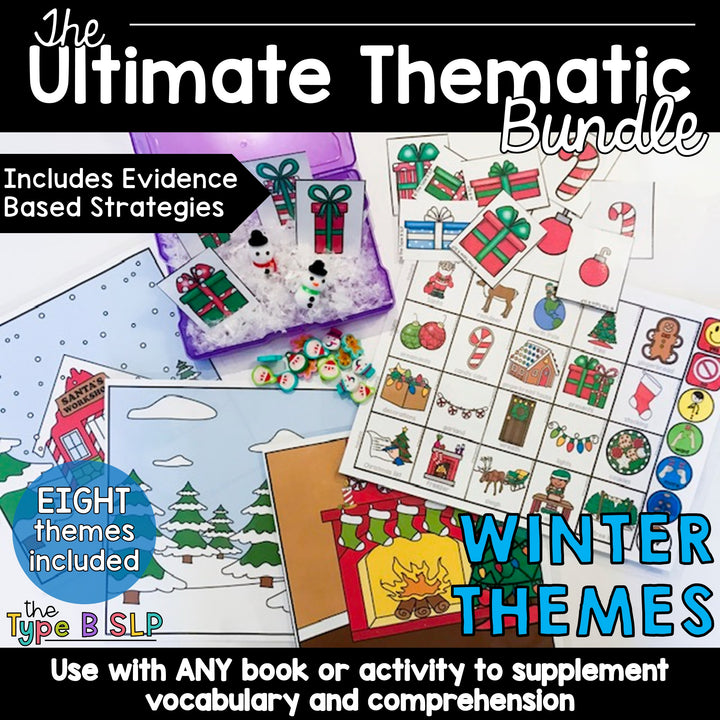 $36.00
Evidenced based companion packs that you can use with virtually ANY thematic book, activity, or game. This HUGE growing resource will give you access to TONS of therapy tools to use with any resource, book, game, or activity related to that theme. This resource includes evidence based practices for vocabulary… read more
Yearlong No Prep Themed Worksheets for Speech Therapy PART TWO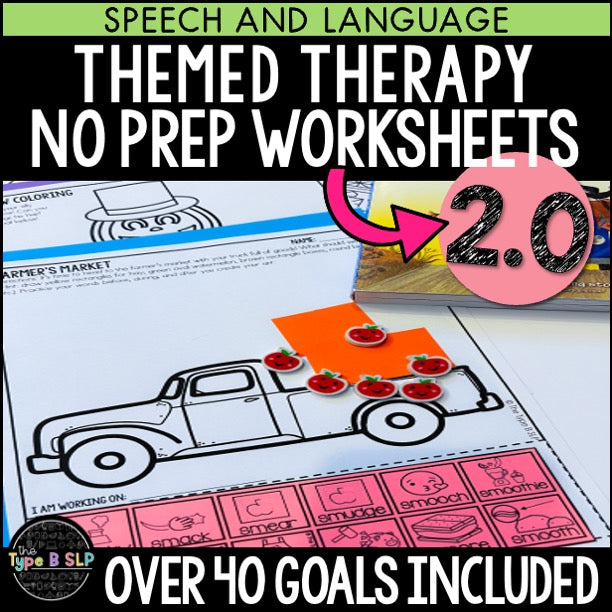 $19.50
Simple, no prep craft/worksheets for the entire school year, that align with all your goals! Use alongside ANY themed book, activity, or game, and simply send home for carryover! Be sure to download the preview for a complete look at the product!! This HUGE resource will give… read more