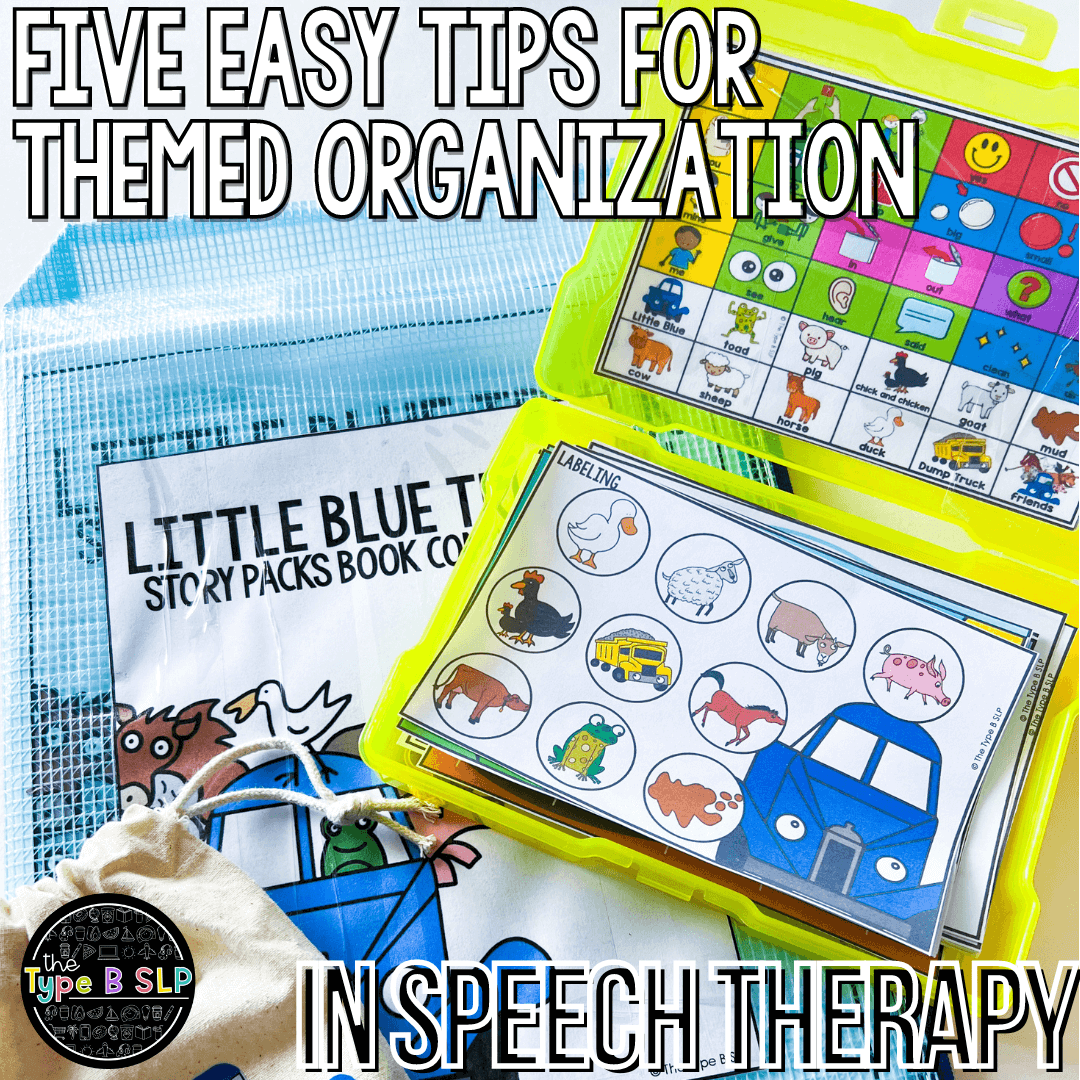 How-To Organize Your Themed Materials in Speech Therapy: 5 Tips for Success
Let's Chat: How-To Organize Your Themed Materials in Speech Therapy!
Psst... Last week, I shared my five tips for using themes in speech (if you missed those tips go read about them here!)
Today, we're talking about my five tips for getting your themes organized!
Here's the gist of it: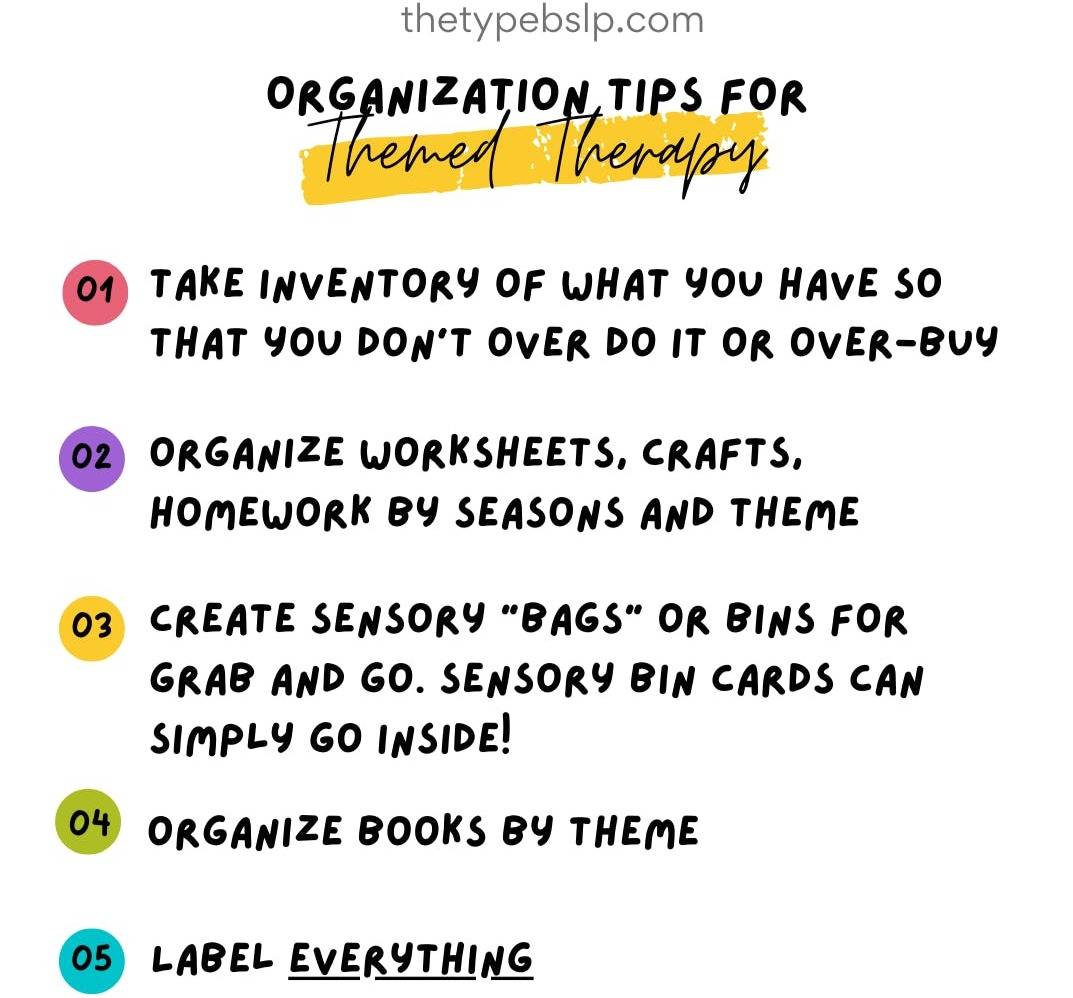 Let me preface this by saying... I've been doing this for 6+ years, so I have a lot of material built up over that time. This isn't something that I did in a week, a month, or even a year. This is something I started years ago to keep me (...a type b SLP) more organized for my sanity. This is not something you should feel that you can accomplish overnight or in just a weekend! But it's a place to get you started if you're struggling to get organized! 😊
1️⃣ Take inventory! This is a liiiittle more Type A of me, but this is where I like to purge the items I haven't used in months (or years!). Sure, I bought it for a good cause... but then never used it. Lol. Going to the donation pile! This also helps me REMEMBER WHAT I HAVE. Because yeah... I forgot I bought that Squirrel Popper last year and that my kids loved it. If I have a more organized inventory, I spend a lot less money on new items, books, toys that I don't *need* (grab this inventory freebie I made for myself!)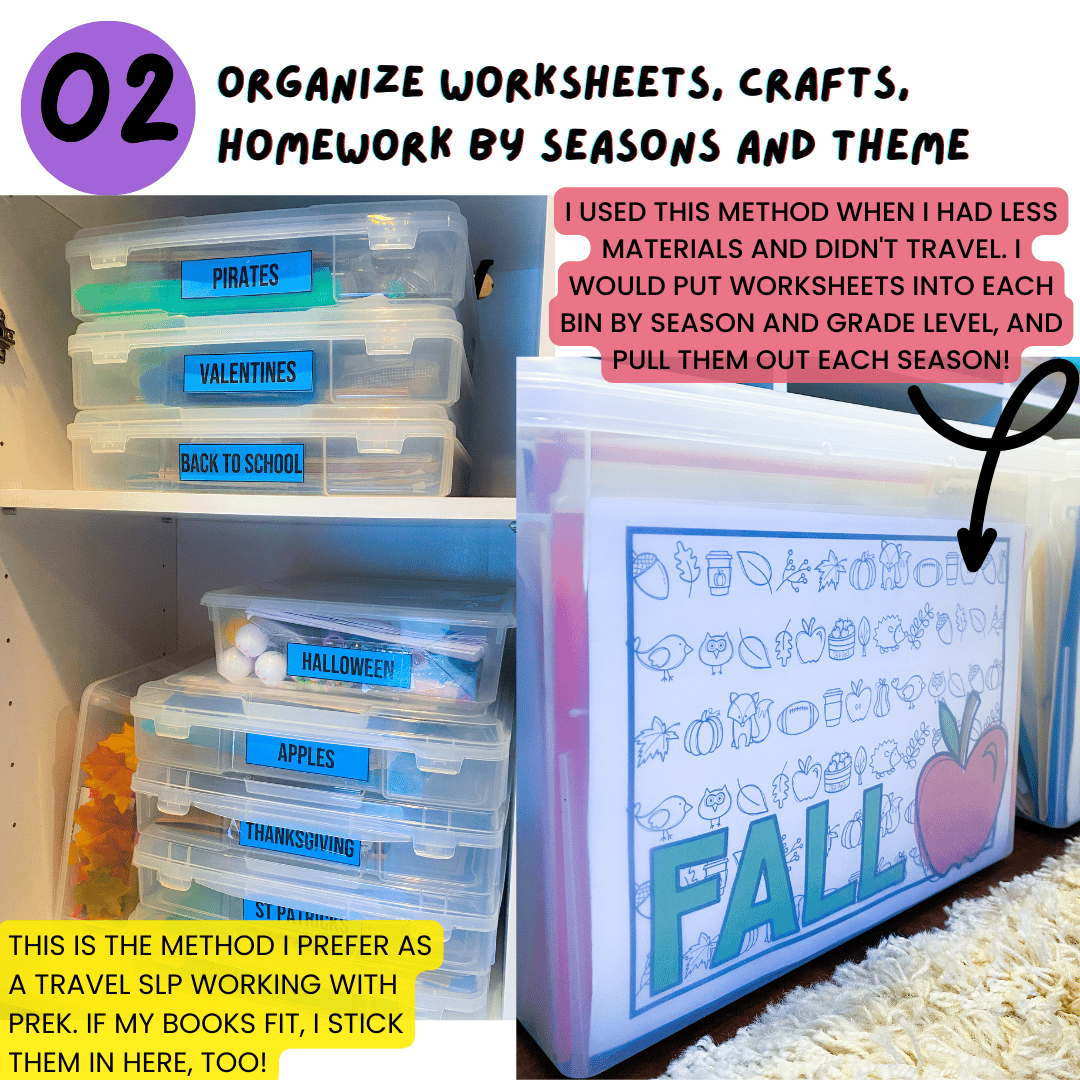 2️⃣ Organize worksheets, crafts, homework by seasons and theme. This will be SO MUCH easier when it's time to use that theme. All you'll have to do is copy past used resources, and go!
3️⃣ Create sensory "bags" or bins for grab and go. Sensory bin cards can simply go inside! This has been one of those hacks that have really saved time for me. ANY sensory bin can be ANY theme when you've got the right sensory bin cards and mini objects to toss in!
4️⃣ Organize books by theme... another huge game changer for me! I would constantly forget what books I owned, to then realize in May, "UGH I never used that Fall themed book I love!" I started keeping mine organized by theme and it not only reminds me of the books I have, it also keeps me from overspending on books! It was a huge bonus when I realized a lot of my books could fit in my themed boxes, too!
5️⃣ Label everything!This will help SO MUCH when it's time to grab and go. I no longer scramble through bins and folders trying to find the things I need (TIP: kill two birds with one stoneby also taking inventory as you're labeling!)
👉🏼 Shop my Amazon page (affiliate) for everything I use to organize!
👉🏼 If you're a visual learner like myself, open and swipe through this organization graphic I made
Here are some of my favorite themed resources that make my life SO MUCH easier!
Yearlong No Prep Themed Worksheets for Speech Therapy PART ONE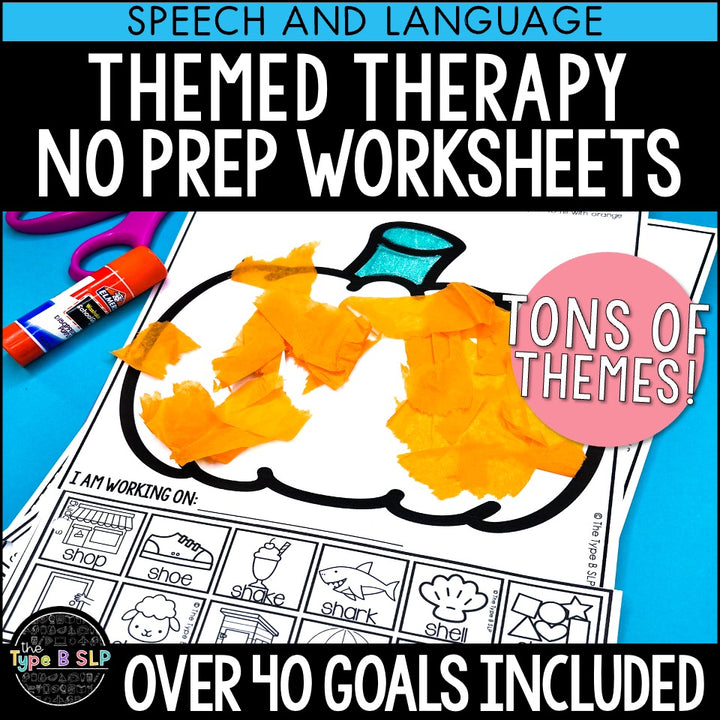 $22.00
Simple, no prep craft/worksheets for the entire school year, that align with all your goals! Use alongside ANY themed book, activity, or game, and simply send home for carryover! Be sure to download the preview for a complete look at the product!! This HUGE resource will give… read more
Editable Book Bin Labels for Speech Therapy: Color & BW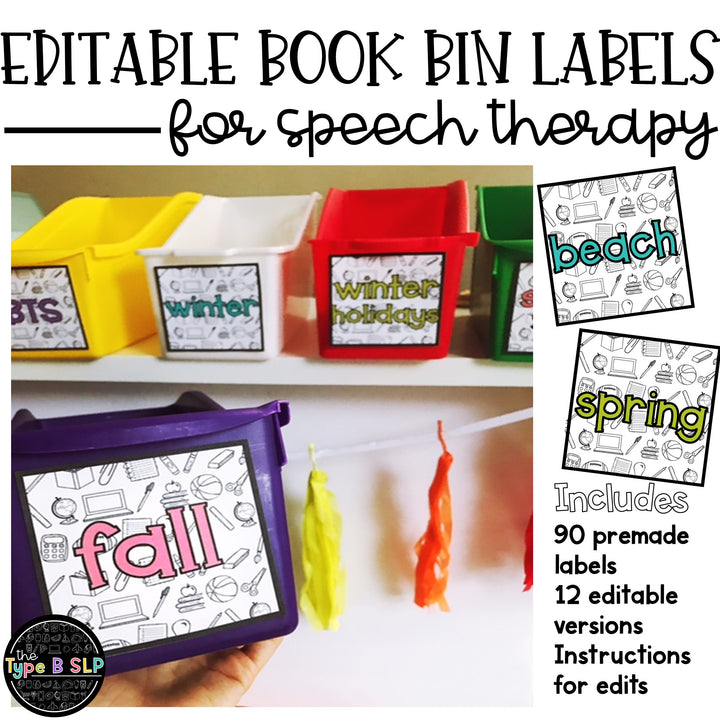 $2.50
These bright and colorful labels are a great way to help organize your classroom/therapy room library. These labels cover 90 themes, specific to speech therapy. Comes in color as well as two different black and white options.   Sample of… read more