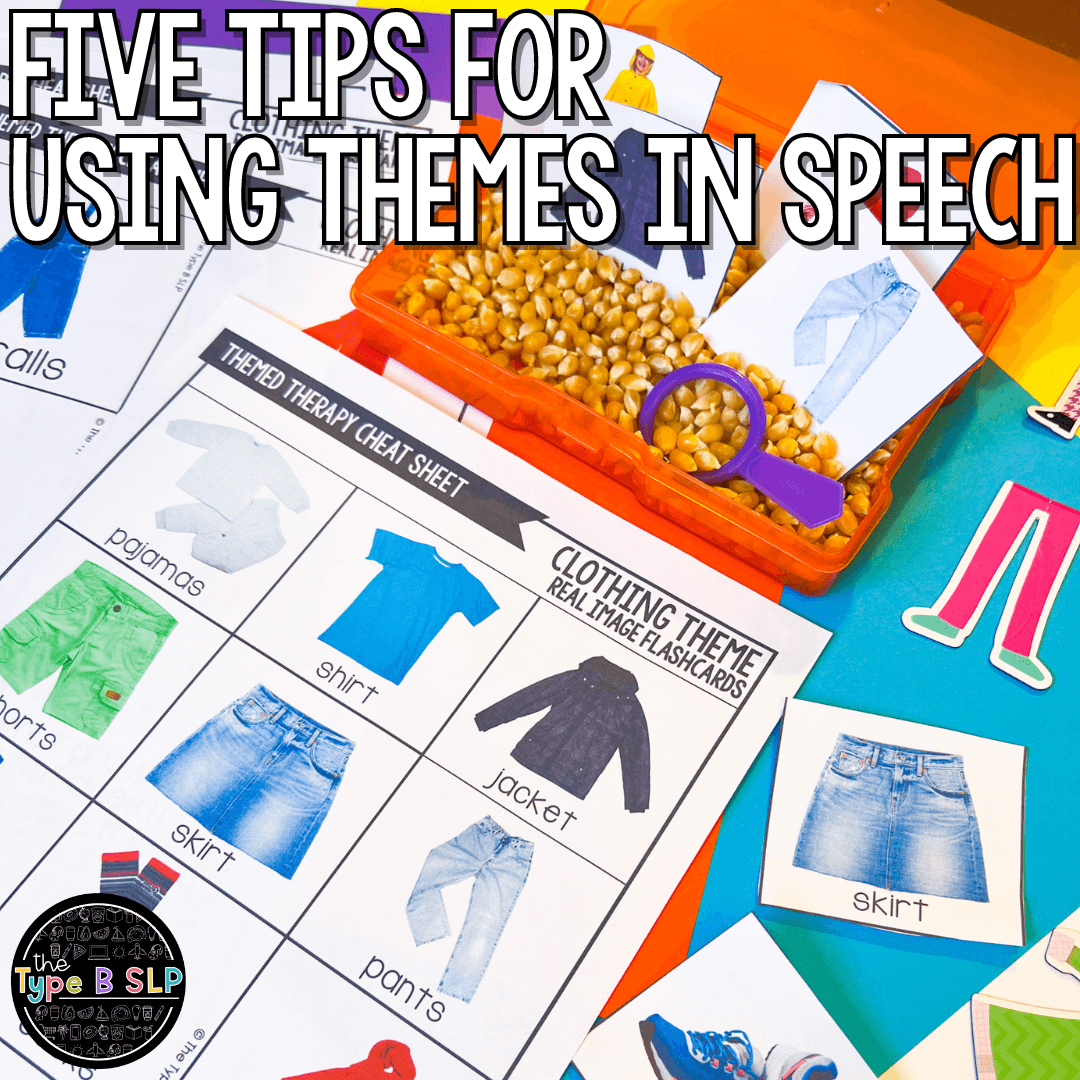 My FIVE tips for using Themes in Speech Therapy
Let's jump into... my FIVE tips for using Themes in Speech Therapy!
Question for you... do you use themes in therapy? I started using themes 6 years ago (!) to get myself organized and streamlined as a newer SLP. And I've never looked back!
So today, I'm sharing some of my favorite tips for themed therapy (from a Type B SLP, lol). I promise themes can make your life SO MUCH easier, especially if you're struggling with a huge caseload and/or lots of different goals.
Here are my five tips for using themes in speech..
1️⃣ Be picky! Choose themed toys, games, activities, and books that are extremely adaptable to a variety of goals. Have something sitting on your shelf that you haven't used in 12 months? PURGE it! Not so surprisingly, every item in my office can fit into a theme. I purged the heck out of my materials 2 years ago, and now I ONLY purchase/own items that will fit into a theme I use in therapy that can be adapted for multiple goals!
2️⃣ Be flexible! Sometimes this means following the student's lead. Sessions won't always go as perfectly planned. Recently, I brought my train set and some cars for our transportation unit, with plans to build a traditional train track as I snuck in some initial /k/ and /g/ practice (car, commute, caboose, cargo, conductor, go); however, my student had way more fun making silly roads and maps around the living room! We made our vehicles go under the couch, under the cat's bed, over the remote, etc. We had SO MUCH fun, and I was able to target not only those targets for fronting, but also a bunch of spatial concepts and increasing MLU (with just my TWO planned themed activities: trains/cars and our vehicle book!)
3️⃣ Be cool with repetition. There are days that we read the same story and play with the same toy for 2 or 3 sessions in a row. I've only had a small handful of students tell me, "this one again?!" Often times, my students become more and more comfortable with the vocabulary and speech targets, meaning we go quickly from me modeling, to repetition, to independence without me constantly using the dreaded, "say car! say car!" Visual​ supports come in handy here, too ⤵️ ⤵️ ⤵️
4️⃣ Do a liiittle bit of prep work. This will make YOU feel confident as you pull out your toys and games! Once I've chosen my themed toys/items for the week, I like to jot down my students' goals and choose 4-5 target themed words. I can use for each student! Example: this week, we're using pumpkins! I have a student working on the "-ing ending. So, I will choose 5 verbs that correspond to things we can do with pumpkins (choose, grow, pick, carve, eat, cook, bake, etc.). Sound like a lot of targets that you'd have to magically come up with for your themes? I simply pull out my Themed Cheat Sheets and take the target words from there!
5️⃣ Don't forget carryover! Carryover is super important for my little ones. So I like to send home 3 targets/words we're working on to encourage practice at home. This can be SUPER simple; "Hi __, this week, we're working on a Transportation theme! Ask Ziggy about his /s/ sound in the following words and where you'd see these things! __ __ __" I personally like to choose targets that are somewhat challenging but stimulable for the student (ie "STOP" will be easier for our transportation /s/ blends versus "STREET"). I like to use my Carryover Homework resource; you can easily send home every week with a simple activity to do at home, plus target words and info about your theme!
​
🤫 Bonus reminder: Themes won't work for every student. There ARE sessions I have to plan more strategically for, or have to scrap my plans altogether and follow the students lead. Told ya flexibility comes in handy!🤘🏼
Here are some of my favorite themed resources that make my life SO MUCH easier!
Themed Therapy Cheat Sheets for Speech Therapy: GROWING BUNDLE ONE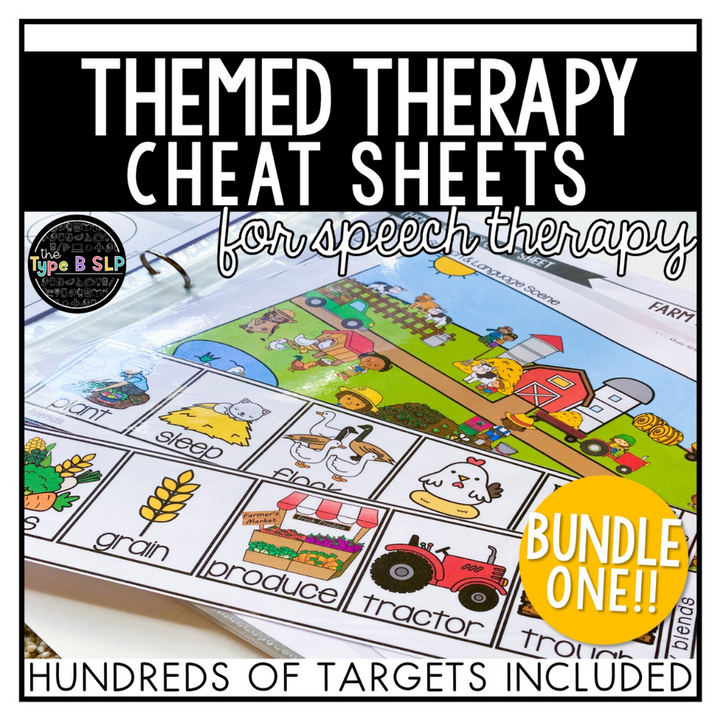 $36.00
Evidenced based CHEAT SHEETS to use alongside ANY themed book, activity, or game related to themes in the bundle! Be sure to download the preview for a complete look at the product!! This HUGE resource will give you access to TONS of therapy targets and… read more
Ultimate Thematic FALL Unit: The Bundle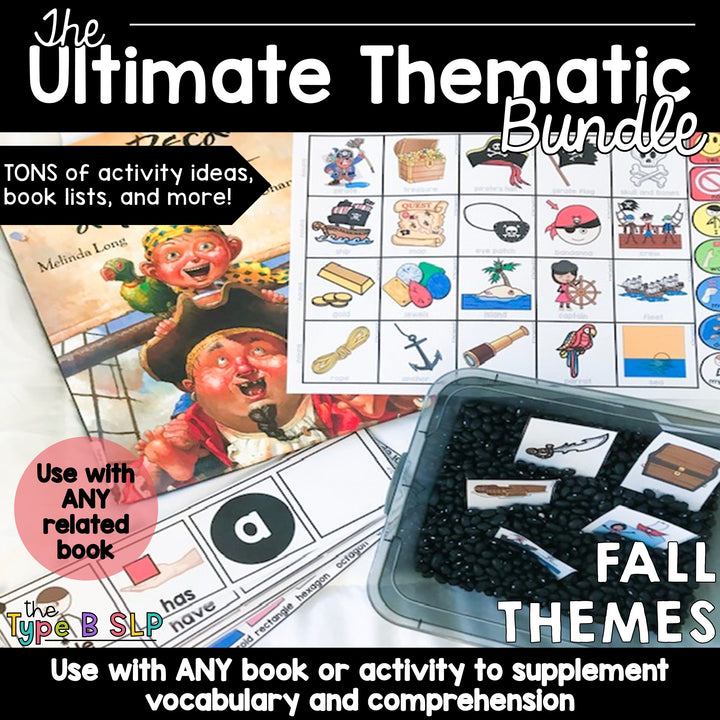 $38.50
Evidenced based companion packs that you can use with virtually ANY thematic book, activity, or game. This HUGE growing resource will give you access to TONS of therapy tools to use with any resource, book, game, or activity related to that theme. This resource includes evidence… read more