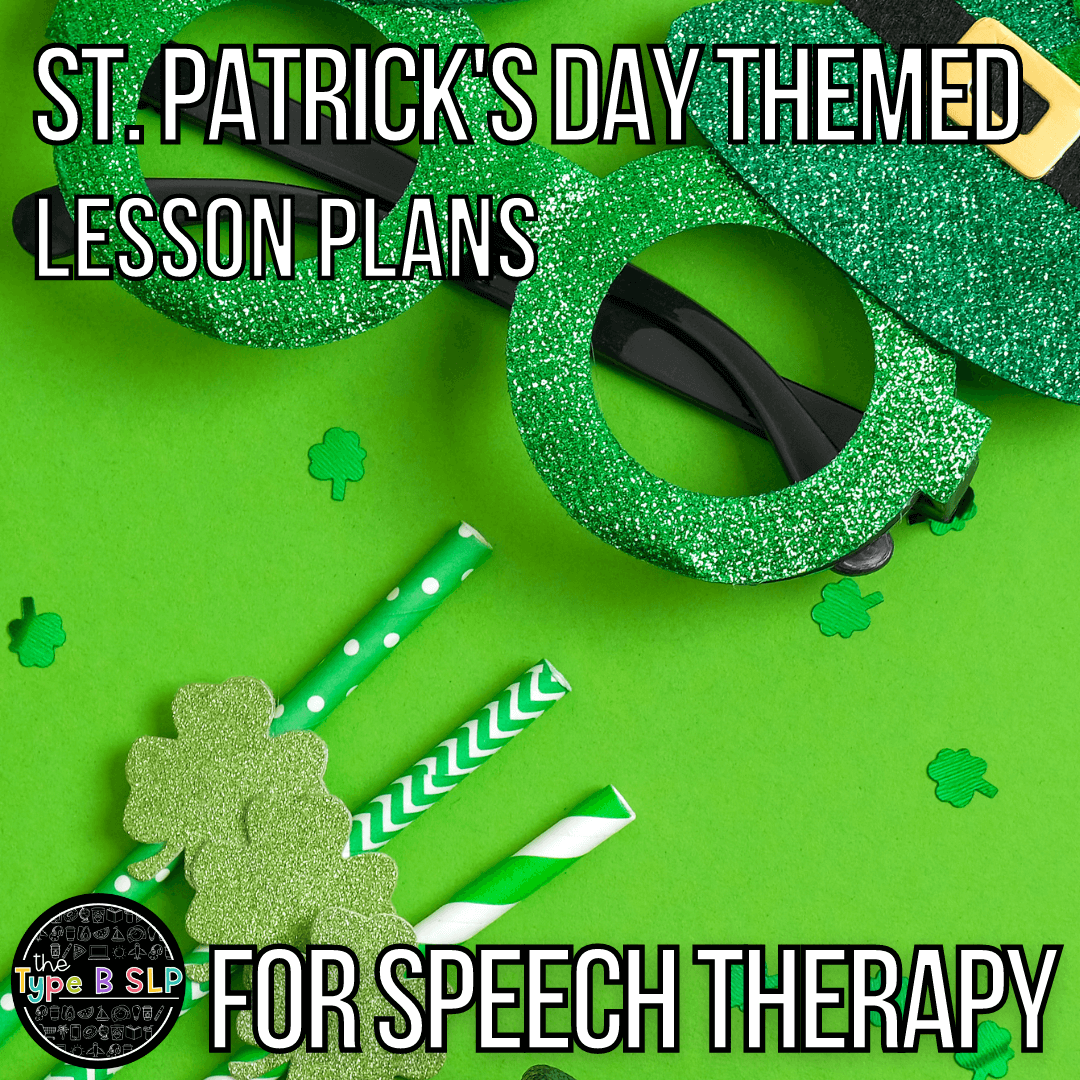 St. Patrick's Day Themed Lesson Plans for Speech Therapy!
St. Patrick's Day Lesson Plans for Speech Therapy
I love celebrating holidays with my students in my speech therapy sessions and St. Patrick's Day is NO DIFFERENT! I love using fun resources, crafts, and playing games with my students all while incorporating their targets and focuses.
If you follow me on Instagram, you know that I have loads of resources and worksheets you can use in your sessions to make things more fun! I hope you love these lesson plans as much as I do!
Disclosure: I receive a small commission if you purchase any items today from my Amazon storefront!
---
Book Favorites
There Was An Old Lady Who Swallowed A Clover (PK-2)
Pete the Cat: The Great Leprechaun (K-2)
How to Catch A Leprechaun (K-4)
The Night Before St. Patrick's Day (PK-2)
Ten Luck Leprechauns (PK-K)
---
Sensory Play
Here's some sensory bin filler ideas for St. Patrick's Day!
-green ribbon
-green Easter grass
-dyed rice
-bunch of gold coins
-mini erasers
-shamrock confetti
-mini cauldrons
-leprechaun picture
Hide the leprechaun picture in the sensory bin and use tongs or hands to find him! Target core vocabulary and following directions to find the trickster.
---
Play Based Activities
Hide Shamrocks Around the Room: Cut out pictures of shamrocks and hide them around the room before your therapy session starts. Find them using a flashlight while giving students directions on where to look. You can also have your students give you directions and hide shamrocks too. While searching, practice the target "where" and spatial sequencing and order of events! You can put St. Patrick's themed vocab on the shamrocks for additional practice.
Leprechaun Trap: Grab a bunch of random materials such as cardboard boxes, paper, sticks, pipe cleaners, etc. Then, use them to create a leprechaun trap with your students! While building it, practice descriptive speech to describe how you are making it and it's different parts. This is a great way to target descriptive language, spatial awareness, and sequential order.
---
Simple Craft
Hands-On Activities
PRIMARYGAMES.COM LEPRECHAUN HUNT!
This website has so many different St. Patrick's themed games and this one is a personal favorite! It can be played during individual or group therapy sessions. Take turns choosing where to "look" for leprechauns. You can find the game here so you can play it with your students!
---
Freebies/Resources
St. Patrick's Day Thematic Unit
Toys, Games, Books
Leprechaun Face Maker Sticker Set*
Candy Kettles for Sensory Bins*
Green Gemstones for Sensory Bins*
SHOP all my recommendations here on my Amazon Storefront*!
To get all of these amazing free lesson plans directly into your inbox each Sunday, sign up for my Sunday Scaries email HERE. I send out a new email each Sunday with all these tips, lesson plans, and resources to help you have more fun in your therapy sessions 💌