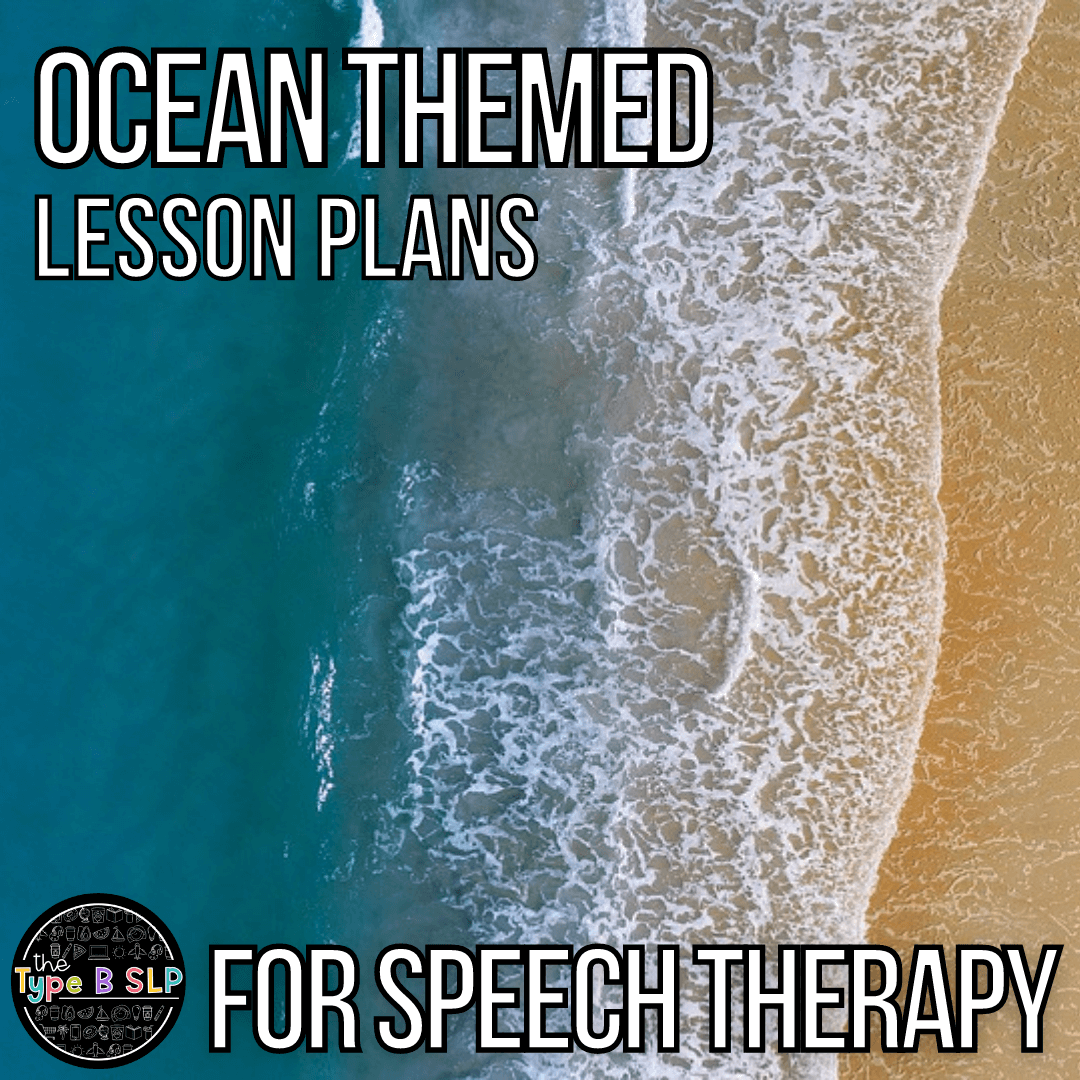 Ocean Themed Lesson Plans for Speech Therapy
Ocean Themed Lesson Plans for Speech Therapy!
Physically, I am in my speech room. Mentally, I am at the BEACH! Ever had one of those moments?! The great thing about an ocean theme in speech therapy is that you can target ALL the senses to make you feel like you are there: the sights of the horizon, the smell of the ocean breeze, the feel of the sand, the taste of the salty air, the sound of the crashing waves. I collaborated with Lauren on from @upstateslp on Instagram to make these easy ocean themed lesson plans for speech therapy which I share these to my page too.
Please note that links marked with an * are affiliate links and if you purchase through them, I will make a small commission from your purchase. I appreciate your support of my small business by shopping any links I share!
---
Book Favorites
Click each link to bring you to a read aloud version!
Down to the Sea with Mr. Magee (K-4)
There Was an Old Mermaid who Swallowed a Shark (PK-2)
There was an Old Lady who Swallowed a Shell (PK-2)
Fish Don't Sneeze (PK-2)
Inky The Octopus (PK-2)
Commotion in the Ocean (PK-2)
The Snail and the Whale (PK-2)
Pout Pout Fish Book Series (PK-1)
Rainbow Fish (PK-K)
Scaredy Squirrel at the Beach (K-4)
Just Grandma and Me (PK-2)
Pete at the Beach (PK-2)
Way Down in the Deep Blue Sea (PK-2)
---
Book Extension Activities
Check out my Down to Sea with Mr. Magee Book Companion!
You can always guarantee an instant laugh from my students with the adventures of Mr. Magee and his pup Dee! This book companion targets a wide variety of language, vocabulary, and grammar goals. Perfect for mixed groups!
---
​
Sensory Play
Fill a sensory bin with:
-Blue marbles, rocks, blue filler paper
-Throw in some toy sea animals and sea shells
-If you have a small net, you can "catch" the animals and practice sorting them by color, size, etc.
-Add a boat and some play people to making a play fishing scene!
-Comment on what you see, the actions of the animals and boat, etc
---
​
Play-Based Activities
Make a water table ocean:

Put all of your sea creatures, some miniature nets, a toy fishing rod,

toy people and some scoops into the water table. Go fishing for animals, follow directions "catch two blue fish", wash the animals, have toy people catch the animals & sell the fish to a market. Have the fish race; using core words & action words -"go", "stop", "fast", "slow".
Create a life size ocean

: Get a blue table cloth to lay on the ground. Pretend you are fishing in a boat. Cut out some fish - you an write or paste target words on the back. You can create paper "rocks" in the ocean & have the student "leap", "jump", "skip" on them. You can add a tape "plank" to walk as they say their sounds.

Have students tell you where to place animals in the ocean using prepositions. Give descriptive clues to see if they can find the animal you're thinking of. The possibilities are endless!
---
​
Craft
Create this cute, jellyfish craft from the Bright Idea SLP
Write language targets or articulation target words on each tentacle!
---
Online Games​
Funny Fill-In Scuba Surprise

: This fun online activity is perfect working on naming ocean themed vocabulary & grammar! Students can create their own stories by filling in the blanks and then it generates a fun scuba themed story at the end. Kids love making & sharing their own silly stories! In a group? take turn with the activity & ask comprehension/sequencing questions about their peers' stories.

Sea Creatures Coloring Book

: Students love creating their own silly sea creatures. You can have students make requests of body parts, colors, location, etc. After they complete their animal, have them describe their animal and tell a story about it to work on sequencing, MLU, grammar and more! In a group? Have students take turns and ask them comprehension questions about their stories after.

---
Freebies/Resources
Themed Carryover Sheets (Type B SLP)
Themed Therapy No Prep Worksheets Bundle (Type B SLP)
Ultimate Ocean Thematic Unit (Type B SLP)
Dot Sea Creatures (FREEBIE)
Ocean Animals Core Vocab Mini Unit (FREEBIE)
Ocean Animals Spatial Concepts Book (FREEBIE)
Ocean Inferencing and Describing Bingo (FREEBIE)
Ocean Open Ended Activities (FREEBIE)
SHOP all my recommendations here on my Amazon Storefront*!
Enjoy these ideas from my therapy to yours!