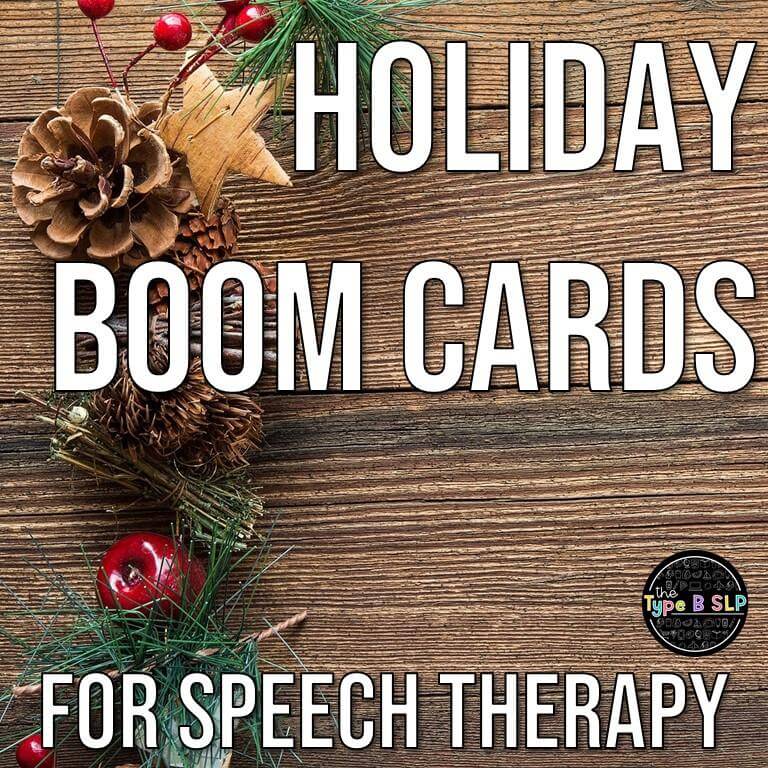 Using Holiday Boom Cards in Speech Therapy
Holiday Boom Cards for Speech Therapy
If you follow along with my blog posts, you know I typically include a breakdown of my themed Boom cards along with my lesson plans, but I am so excited about these holiday decks that I couldn't fit all the Christmas cheer into one post! Speech Therapy Holiday Boom Cards for my themed therapy peeps!
Here's an in-depth look at my Speech Therapy Holiday Boom Cards:
Christmas/Holiday Free Sampler Deck:
This freebie includes five different activities and is a small sample of what you can expect in my bigger Christmas Sentence Strip deck (more on that one below). These activities are designed to target MLU expansion, labeling nouns, attributes, colors, spatial concepts, categories, and more! Many of the pages include interactive and hidden or layered pictures which fosters language opportunities because your students can describe what they want you to move, where you should drag it to, what is hidden underneath, and give directives on what to do with the pictures with each page. I don't know about you, but my students LOVE interactive Boom cards! It feels so much more like playing than answering questions and selecting items. Don't get me wrong, those are important skills too, but I'm working with preschoolers this year, and bringing the fun feels like a necessity during remote learning. With this deck, students can "open" presents under the Christmas tree, decorate a winter wreath, sort pictures (both Christmas and Hanukkah themed items) into "like" or "dislike" piles, play with a pronoun themed sensory bin, and sort hidden pictures into categories with fun sugar cookie and gingerbread men visuals.
Christmas/Holiday Sentence Strip Deck:
I got so much amazing feedback from my Fall/Thanksgiving Sentence Strip deck, and I am so excited to start using these Christmas Sentence Strip in therapy with my students. This deck offers so many different choices that I can use it with students of all ages and skill levels. For my younger students, or students with goals to expand utterances, the "I See: Dunking Cookies," "Like/Dislike" and "I Want" sections are a fun way to target Christmas vocabulary, labeling, commenting and expanding language. The "I See: Dunking Cookies" allows students to move cookies to reveal Christmas themed items underneath. Dunk the cookies into the glass of milk and use the sentence strip below to help expand phrases. If your students like Christmas cookies, they can decorate their own using the "I want" activity! Build a Santa, decorate a Christmas tree, or decorate some sugar cookies by targeting "want," "more," and colors.
For students with pronoun and/or vocabulary goals, the Him/Her/Sorting activity allows students to look behind stockings to find items and give them to either the girl or the boy based on the category. Or with the Him/Her: Decorate the Tree section, you can give the girl and boy lights and ornaments to decorate their Christmas Tree.
Have your students ever wondered what the North Pole really looks like?! Well by choosing the "I Pick: Make a North Pole Map" they finally can! With sentence strips targeting "I pick the…" and "Put the [item] (location) the…" you can focus on expanding MLU and prepositions while letting student's imaginations run wild. Take turns putting different gingerbread themed cottages and other Christmas themed buildings on the map of the North Pole, and talk about who lives there, what toys are made there, where Santa likes to go in the village, where Rudolph lives, etc. It's so fun to see student's ideas come to life with this activity.
Another activity I can't wait to use are the Social Play Scenes! Students can pretend to go shopping for either a Christmas tree or at a toy store and play either the customer, or the cashier. There is even real money to use to complete your purchase! These play scenes help students practice using functional, pragmatic language skills in familiar settings. Getting to practice using language in different roles has been really fun for my students, and I find that I get so much spontaneous language from my students when we really just play! Using these scenes has helped bring the fun into tele-therapy at a time when I know we could all really use it!
If your students like the toy shop in the social play scenes, I highly recommend checking out the Gift Shopping activity targeting "I need…" sentence strips. You can choose from a number of different people to shop for including either yourself, or someone else in your life (Mom, Dad, siblings, etc.) There are tons of familiar toys to choose from including Pop the Pig and Mr. Potato Head. There are options with prepared lists, or your students can create their own. We can practice writing skills, executive functioning skills (organizing, short term memory, flexibility, and more!), expanding phrases, articulation (choose items that include student's target phonemes,) following directions, quantitative concepts, qualitative concepts and so much more!
Do you have any students working on answering yes/no questions accurately?! Use the Like/Dislike pages to target making choices, labeling nouns and verbs, sorting items into categories, answering yes/no questions, and expanding phrases. My students have a lot of fun with the "Like/Dislike: Gifts" section where they "open" presents and sort them into categories of "I like the…" or "I don't like the…" For students with higher verbal language skills that might not be working on expanding phrases, you can target using expected vs. unexpected language! Have them pretend their aunt actually gave them this gift! What would they say if they liked it? What if they didn't like it?" Students can give expected responses that would be pragmatically appropriate, and then amp up the silliness by giving unexpected responses too! I find that I get some of the best spontaneous language when I let my students be silly in ways they don't get to be in real life. This section also offers sorting options for Christmas activities, Hanukkah items, and a section with Christmas themed moveable GIFs to target verbs.
The Hide-n-Find in the Neighborhood is another activity that is great for mixed groups! Students can choose between three different houses: Grandma's house to search for Christmas themed items, a friend's house for Hanukkah to find Hanukkah themed items, and even a "surprise" house that takes you to the North Pole. With these Hide-n-Find pages you can target prepositions, basic concepts, giving directives, following directions, expanding phrases, making choices, the list goes on and on! I would love to hear how you guys are using these activities with your students! Though, I do have to say, I'm partial to the North Pole village set, since I added my new lil' pup Ziggy to the list of things to find!
My Christmas Sentence Strips are also available in a Winter Bundle which will be updated soon to include both Christmas and Winter themed activities!
Gingerbread Boom Cards with Sentence Strips:
This deck was so much fun to make because this was a new theme for me! I've been really loving the gingerbread theme this year and my students do too! This deck is similar to my other holiday decks in that it includes sentence strips in each activity, there are some similar activities such as "I see…" "Create Your Own Village Map," "I found…" and sorting activities targeting pronouns, except these ones feature a Gingerbread theme and different hidden pictures than my other holiday decks. Here is a breakdown of some of my new favorite activities featured in this deck.
Baking & Decorating Gingerbread Cookies: This activity has two choices; bake your cookies or jump right to decorating. If you choose "bake your cookies" your students can go through the steps of mixing ingredients, rolling out and cutting out cookies with a gingerbread cutter, putting the cookies into the oven and setting the timer! To move to the next steps simply click the black arrow to take you to the next page. Once your cookies come out of the oven, it's time to decorate! Target "I want…" or "I want more…" phrases, colors, and clothing to dress up your gingerbread men.
To keep the baking fun going, go to "Put: Gingerbread Cookies" to choose and mix your own ingredients to reveal a surprise once you're done! This section has a mix of gingerbread cookies, houses and a silly surprise. Practice labeling items and expanding "put in" phrases by dragging ingredients to the mixer. Once all the ingredients you'd like are in, set the timer to turn your mixer on, when the timer goes off reveal what you've made! I love watching my students anticipation as we move the mixer out of the way to show off our creation!
Compare & Contrast: I am so excited to use this activity in therapy with my students. These cards present two different images within the realm of baking, food, kitchen appliances, etc., and give you space to click and drag attributes from the bottom or write in your own answers. This makes it an activity I can use with multiple ages, different skill levels, or mixed goal groups. It also gives you the chance to write out a phrase or sentence based on the attributes your students choose to describe/compare each item. And because it comes with 10 different opportunities you can choose to make this a warm-up or a quick ending activity for a few different therapy sessions in a row, or focus on it for a longer portion of your session.
Describing Images: Some of my no-print, no-prep thematic units include describing images tasks but this is the first time I'm including this activity into a Boom deck! With choices of five different describing clip art options, and five different describing real-life photographs pages, you can use this activity multiple times, or go through and pre-select which pages might fit the needs of your students best. Each page features two rows of attributes with text and pictures, and sentence strips targeting "A (item) is a [category]," "It has…," "It is…," and "It is not…" There are also eight different areas to target descriptions such as group, tastes like, looks like, parts, do/function, smells like, feels like, and where. The pages with the real gingerbread houses are lots of fun because students can talk about any candy they recognize, and talk about their own experiences making a gingerbread house or what type of candy they might use to decorate a house. It's also a great activity to walk through with parents because we can show them how we would incorporate speech or language goal areas into activities they might already have planned for the holiday season! I know I am always looking for opportunities to carry over my student's goals to other areas of their lives, and this way I can also help answer any questions parents may have or explain our thought process behind activities or targets. So much of what we do each day comes as second nature to us now through practice and use, but we always have to remind ourselves to slow down and help teach families alongside our students.
I always look to incorporate movement into my therapy sessions, especially now that so many kids are on screens and sitting for so much of their day with all this remote learning! The Act It Out pages are a fun way to get up and moving during therapy! Slide over the gumdrop on each page to reveal a charades or following directions challenge. Have your students act out actions like a snowball fight, ice skating, making hot chocolate, skiing, and more. This can be a fun game to end your therapy session, or you can use the tasks to target following simple directions or even quantitative directions.
One of my goals with this boom deck was to incorporate different activities that can be used for a wider variety of ages. With some of the activities being as open-ended as they are, you can truly personalize them to meet your students needs and target any goal area with these activities!
Want to see a closer look at how I utilize these together in therapy??
Watch my YouTube video walk-through here!
For more Gingerbread activities check out my digital book companion for the story Gingerbread Baby by Jan Brett here, and visit this blog post for more therapy ideas!
Are you using Speech Therapy Holiday Boom Cards yet?! I would love to hear how you make decks more interactive for your students!