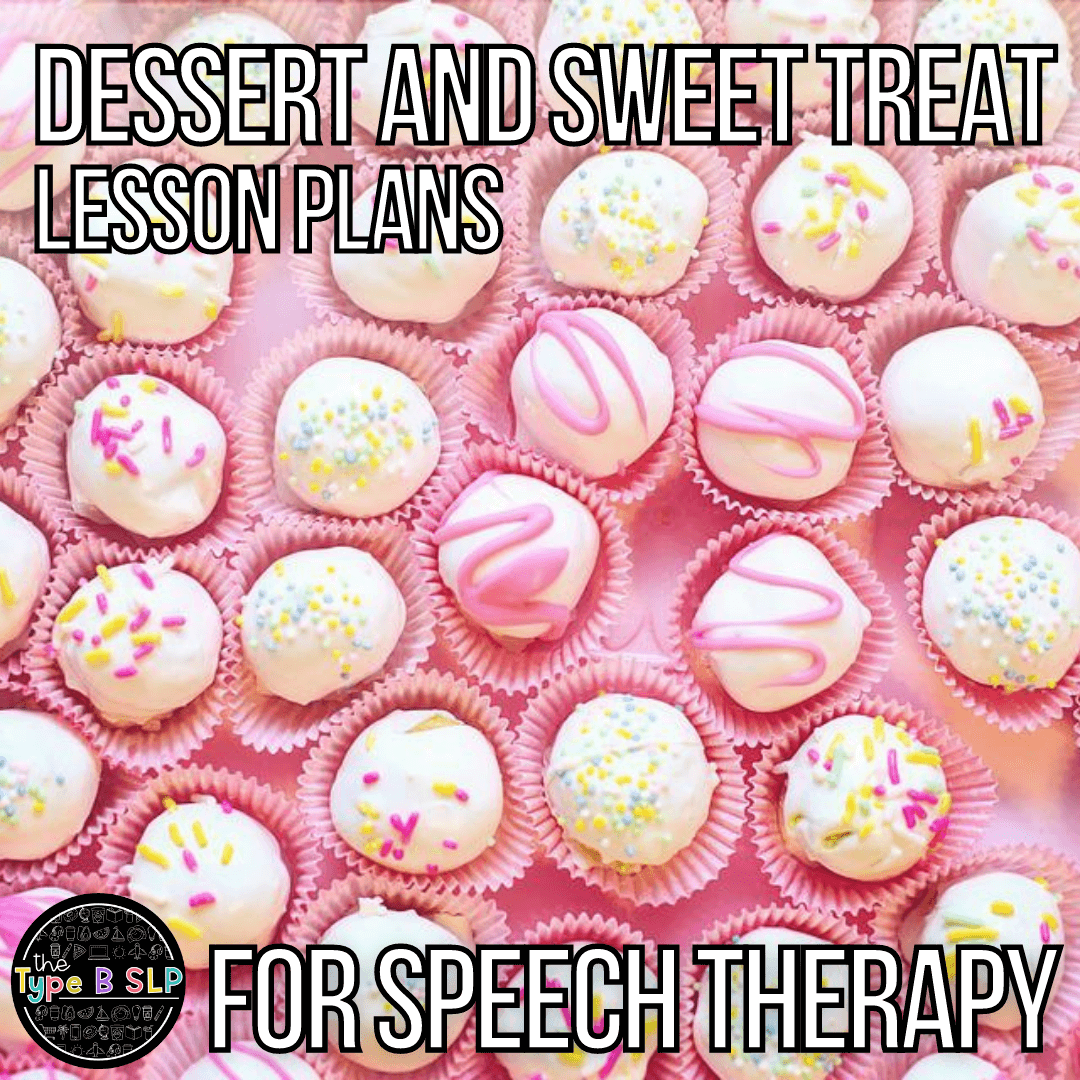 Dessert Themed Lesson Plans for Speech Therapy
Dessert and Sweet Treat Themed Lesson Plans for Speech Therapy!
I'll admit- I've got a bit of a sweet tooth so my mouth was watering going through these dessert and sweet treat themed plans!! I collaborated with Bridget on from @yourneighborhoodslp on Instagram to make these easy Dessert Themed Lesson Plans for Speech Therapy which I share these to my page too.
Please note that links marked with an * are affiliate links and if you purchase through them, I will make a small commission from your purchase. I appreciate your support of my small business by shopping any links I share!
---
Book Favorites
Click each link to bring you to a read aloud version!
What Can You Do with a Paleta?
Pete the Cat and the Missing Cupcakes
Splat the Cat: I Scream for Ice Cream
Is It Warm Enough for Ice Cream?
Groovy Joe: Ice Cream and Dinosaurs
---
​
Sensory Play
Fill a sensory bin with:
-Pour in colored rice, sprinkles or colorful kinetic sand
-Then toss in cotton balls and colorful pom poms for "ice cream"
-Add your ice cream scooper, spoons, small bowls, mini marshmallows, and real (or pretend) ice cream cones!
---
​
Play-Based Activities
Ice cream parlor pretend play/dramatic play: Set up an ice cream shop! Grab pretend play ice cream sets and some child size aprons! You could also easily use items from home instead of buying ice cream toys. Create cones with brown paper, and use pom poms or cotton balls as ice cream scoops! Bring in bowls and spoons from home, and have students help you make ice cream shop signs with flavors and toppings!
---
Craft
Find directions for the craft HERE from the Crafty Morning Blog!
-Mix liquid glue with shaving cream until you get "stiff peaks" in the mixture.
-Add green paint or food coloring to mixture.
-Draw/color brown triangle "cones"
-Using a paintbrush, paint an ice cream cone shape on top of the cone.
-Take a tiny paintbrush/brown paint and add chocolate chips!
-Draw a red circle cherry on top
-Let dry overnight!
---
Online Game
So many choices! Work on requesting, labeling, describing, following directions, and more! I also like using it to discuss the different steps for making a sundae before we make our own! Can also talk about silly things that don't belong: Should we add dirty socks?!
---
​
Freebies/Resources
Themed Carryover Sheets (Type B SLP)
Themed Therapy No Prep Worksheets Bundle (Type B SLP)
Ultimate Thematic Ice Cream Unit (Type B SLP)
Scoopin' Pronouns (FREE)
Build A Sundae Apraxia Boom Cards (FREE)
Ice Cream Hole Punch (FREE)
Ice Cream Categories (FREE)
Dessert Themed Trials (FREE)
SHOP all my recommendations here on my Amazon Storefront*!
Enjoy these ideas from my therapy to yours!