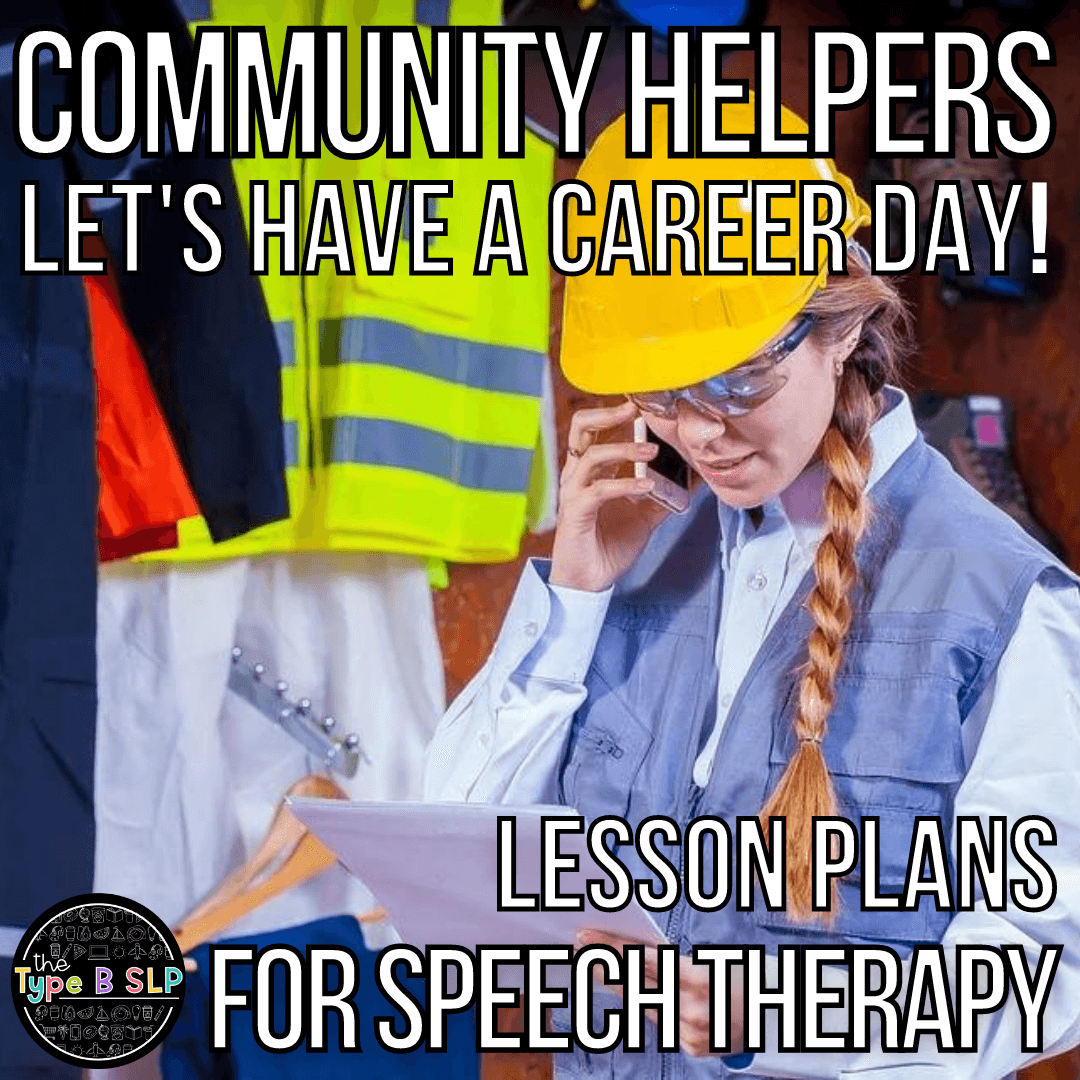 Community Helpers: Career Day Lesson Plans for Speech Therapy
Community Helpers: Career Day Lesson Plans for Speech Therapy
Do you remember Career Day in elementary school when you were young? I remember being so captivated by all these adults and their important, grown-up occupations and knew, whatever I was going to be when I grow up, I was going to HELP people. And, here we are- as SLPs- HELPING others. It gives me chills! Even now, when I ask my students what they want to be when they grow up, I get so many responses such as "Doctor!", "Firefighter!", "Nurse!", "Teacher!" and the list goes on. Our students are always so interested in jobs and thinking about the future- why not make a whole theme dedicated to Community Helpers and have a Career Day of your own?! Check out some of my ideas on how to throw your own Career Day in Speech Therapy!
Set up your Speech Room in STATIONS!
Here are some suggestions for stations for your Community Helper themed Career Day! Maybe you've decided to make it into a Career Week and each station is set up on a different day of the week? Maybe you've decided that you'll set up 2-3 stations in your speech room and let your students' imaginations run wild. Whatever you decide, here are some station suggestions!
THE LEARNING STATION
Community Helpers Puzzle: Click HERE to check out this puzzle I found on Amazon that includes real-life photos of community helpers! Target associations/labeling by having your students match the worker to their tools/resources.
Flash Cards: Click on the link HERE to see a Community Helper flashcard deck on Amazon that includes 27 different community workers! Each flashcard includes a description of their characteristics, requirements, and duties on the back.
Find these activities and more HERE on my Amazon Storefront link !!
BOOK STATION
Clothesline Clues to Jobs People Do
I LOVE this book! Each page shows a uniform and accessories that accompany a. certain occupation that are hanging from a clothesline. Have your students guess which job it could be and flip to the following page to find out the answer!
Whose Is It? Series:
Guess the community worker given pictures and descriptions of their hats! Great for targeting adjectives!
Guess the community worker given pictures and descriptions of their tools!
Let's Meet A… Series:
Let's Meet a Construction Worker
These books are great for highlighting one particular community worker. There are so many more in this series- check them out HERE at my Amazon Storefront.
Want even more books?! Check out THIS website from The Measured Mom (non-affiliate link) to see a HUGE list of community helper books!!
PRETEND PLAY STATION
Now that your students have learned all about different community helpers- it's time to pretend to be one for a day! Let your students' imaginations run wild and engage in some pretend play as they get dressed as their favorite community workers!
Pretend Play Career Vests: Click HERE to find a 7-piece, dress up vest set that includes a construction worker, farmer, astronaut, doctor, chef, sanitation worker, and a safari adventurer! Let your students imaginations run wild with this pretend play set and introduce new career related vocabulary as you act out different jobs!
CRAFT STATION
Want to incorporate even more fun into your Career Week?! Click HERE to check out this website from123HomeSchool4me (non-affiliate link) that has a TON of Community Helper crafts that are perfect for tying into the theme!
If Stations Aren't Your Thing...
That's Okay!! Click below for all of my favorite FREEBIES from TpT and Boom!
TPT:
Community Helpers Cheat Sheets for Speech Therapy
Digital Community Helper Matching Associations
Listening Comp for Community Helpers
Boom:
Flashlight Finds: Community Helpers
Community Helpers: Chefs Includes book, questions, vocab practice, and smash mat!
FEATURED PRODUCT
Check out my Ultimate Fall Thematic Unit in my shop that includes a whole unit on COMMUNITY HELPERS!
Grab more ideas in my Free Lesson Plans here!
Click HERE for my Community Helper themed Amazon storefront with direct links to toys, books, and games that I mentioned above!
Enjoy these ideas from my therapy to yours!