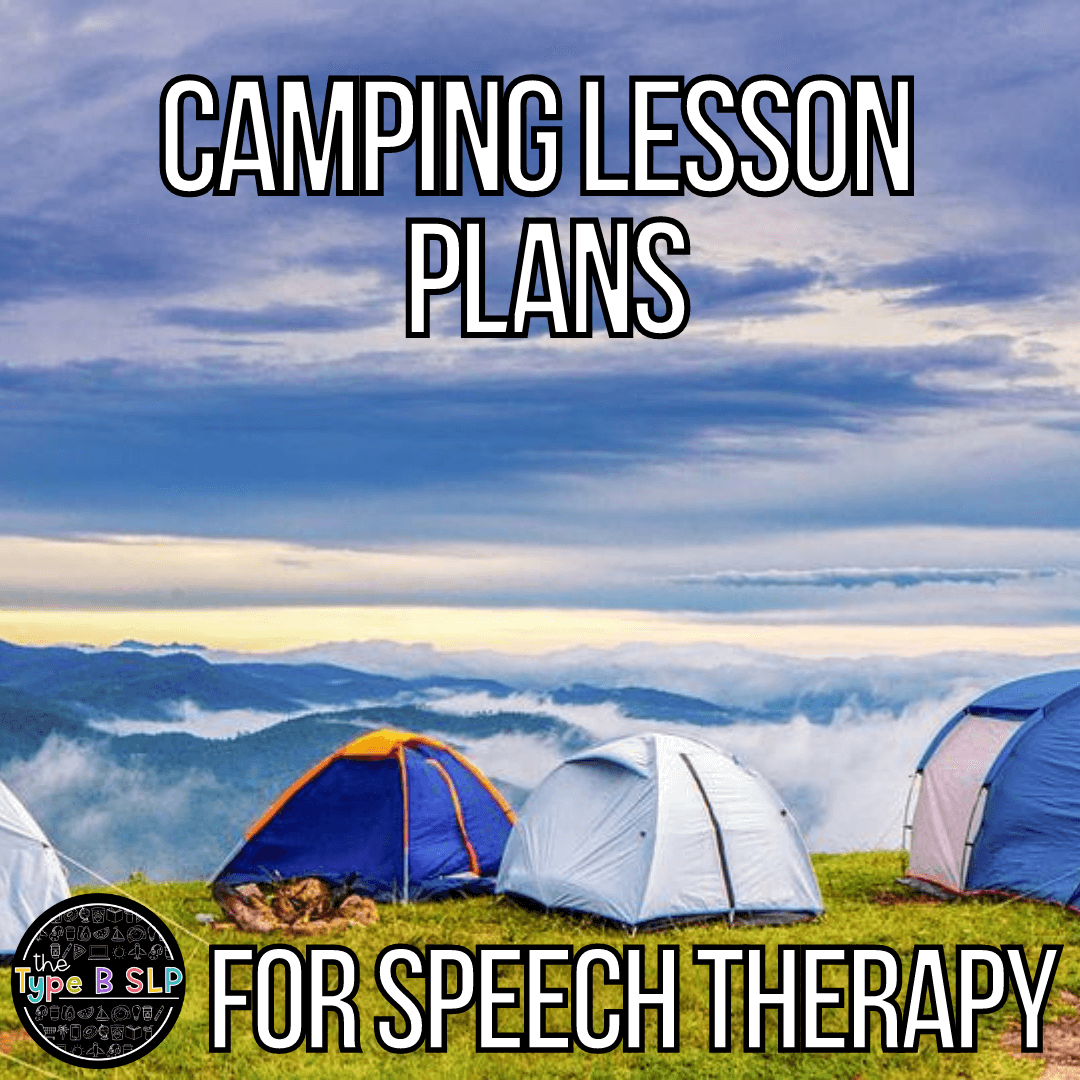 Camping Themed Lesson Plans for Speech Therapy
Camping Lesson Plans for Speech Therapy!
A camping theme means it's a sure sign of summer around the corner! I collaborated with Kelly on from @thumbbunnyspeech on Instagram to make these easy camping themed lesson plans for speech therapy which I share these to my page too.
Please note that links marked with an * are affiliate links and if you purchase through them, I will make a small commission from your purchase. I appreciate your support of my small business by shopping any links I share!
---
Book Favorites
Click each link to bring you to a read aloud version!
Maisy Goes Camping (PK)
A Camping Spree with Mr. Magee (K-4)
A Campfire Tail (PK+)
The Camping Trip (PK-2)
Pete The Cat Goes Camping (PK-3)
Scaredy Squirrel Goes Camping (PK-3)
Biscuit Goes Camping (PK-3)
Fatima's Great Outdoors (PK-3)
Amelia Bedelia Goes Camping (K-3)
---
Book Extension Activities
Check out my no print book companion for this adorable book A Camping Spree with Mr. Magee by Chris Van Duesen. This book companion targets a wide variety of language, vocabulary, and grammar goals. Perfect for mixed groups!
---
​
Sensory Play
Make a s'more sensory bin!
-Cut cardboard pieces into squares for the graham crackers
-Use cotton balls for marshmallows
-Toss in brown felt for the chocolate pieces
-Add a few sticks from outside
-Have fun! Target describing skills, sequencing, and vocabulary!
---
​
Play-Based Activities
Camping Playset*

: This set is from Learning Resources and can be found on Amazon at the link. Pretend you are packing for a camping trip!

What do you need?

Target vocabulary and sequencing skills, then have fun on your "campsite"!
Little People*

: These sets are always a hit!

T

arget concepts, actions, prepositions, following directions, and vocabulary.

Talk about what your camper needs to start a fire, then have your camper roast a marshmallow.

When you camper is tired, tell a campfire story to help your camper go to sleep.
---
​
Crafts:
Make a handprint campfire craft!
-Print or draw 3 logs onto brown paper and cut out
-Have students trace their hands on red, orange, and yellow paper and cut out
-Glue pieces together
-Add articulation/language targets for extra practice!
---
​
Freebies/Resources/Boom Cards
Themed Carryover Sheets (Type B SLP)
Themed Therapy No Prep Worksheets Bundle (Type B SLP)
Ultimate Thematic Camping Unit (Type B SLP)
Camping Dough Boom Cards (Thumb Bunny Speech)
Camper and Tent Craftivity (Thumb Bunny Speech)
Camping Themed Mini Unit (FREE)
Camping Seeking Activity (FREE)
Camping Following Directions (FREE)​
Grammar Camp (FREE)
Camping Clues- Early Inferencing (FREE)
Hide and Seek Speech /ch/ Boom Cards (FREE)
Camping Fun: Interactive Story Sample Boom Cards (FREE)
SHOP all my recommendations here on my Amazon Storefront*!
Enjoy these ideas from my therapy to yours!