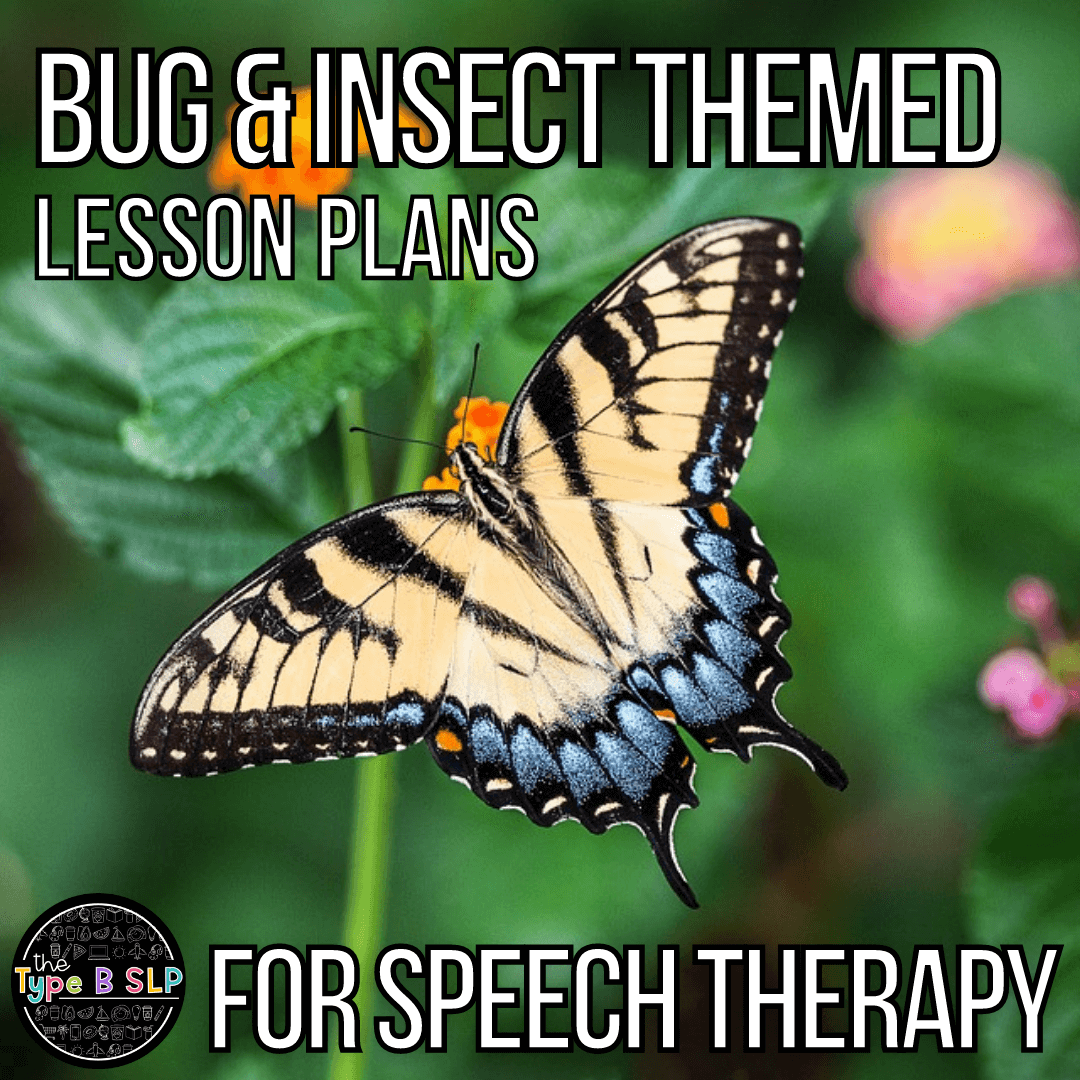 Bug and Insect Themed Lesson Plans for Speech Therapy
Bug and Insect Themed Lesson Plans for Speech Therapy
A bug and insect theme is perfect for the springtime! I teamed up with Lori from @languagewithlori on Instagram to make these fun Bug and Insect Themed Lessons Plans for Speech Therapy which I share to my page too.
Please note that links marked with an * are affiliate links and if you purchase through them, I will make a small commission from your purchase. I appreciate your support of my small business by shopping any links I share!
---
Book Favorites
Click each link to bring you to a read aloud version!
The Backyard Bug Book For Kids
Hank's Big Day: The Story of a Bug
---
​Book Extension Activities
The Very Hungry Caterpillar book extension activity suggestions:
-Sequence the story using play food or pictures of food
-Make a butterfly (keep scrolling for craft idea!)
-Learn about how caterpillars turn into butterflies. Check out this video or this video. Discuss new vocabulary and sequence the events.
-Act out the story pretending to be that very hungry caterpillar!
-Talk about the foods the caterpillar ate. Sort them into groups based on color, shape, size, likes/dislikes, etc.
---
Sensory Play
-Grab a baby bottle rack and you have your grass! (or grab some green crinkle grass)
-Toss in your bugs
-Use play tweezers or tongs to "save" your bugs
---
Play Based Activities
​-BLUE TAPE: I love to use Blue Tape to make a giant spider web! Build a web on your wall, or your therapy table, and use tape to trap other bugs in the spider's web so you can work together to rescue them! I love to target core vocab like UP, STOP, NO, YES, HELP, ON, OFF, IN, DOWN, PUT, FAST, WANT with my prek kiddos while we play with the web
-If your students love spiders and webs, why not take it one step farther to create a bigger web on the floor?! You can use blue tape for this, but for something that will hold up better to lots of little feet, Gym Tape is the way to go!
---
Crafts

How to make a coffee filter butterfly:
-Decorate 2 stacked coffee filters with markers or dot paint (if you want to keep the mess a little more contained, use a tray or baking sheet).
-Fill a plastic spray bottle with water, and spray it onto your decorated coffee filters.
-Let it dry overnight or in the hot sun.
-Once it's dry, scrunch the middle and secure with a pipe cleaner.
-Twist it to make the body and antennae of your butterfly!
---
Online Resources
-National Geographic: Bug Memory Game
---
Freebies/Resources
​Yearlong No Prep Worksheets (Type B SLP)
Themed Carryover Pages (Type B SLP)
Insect and Bug Worksheets (FREE)
Insect Reinforcement Game (FREE)
Bug Catcher (FREE)
Butterfly Trace (FREE)
Frogs and Flies (FREE)
---
Read even more BUG-themed ideas HERE!​
SHOP all my recommendations here on my Amazon Storefront*!
Enjoy these ideas from my therapy to yours!