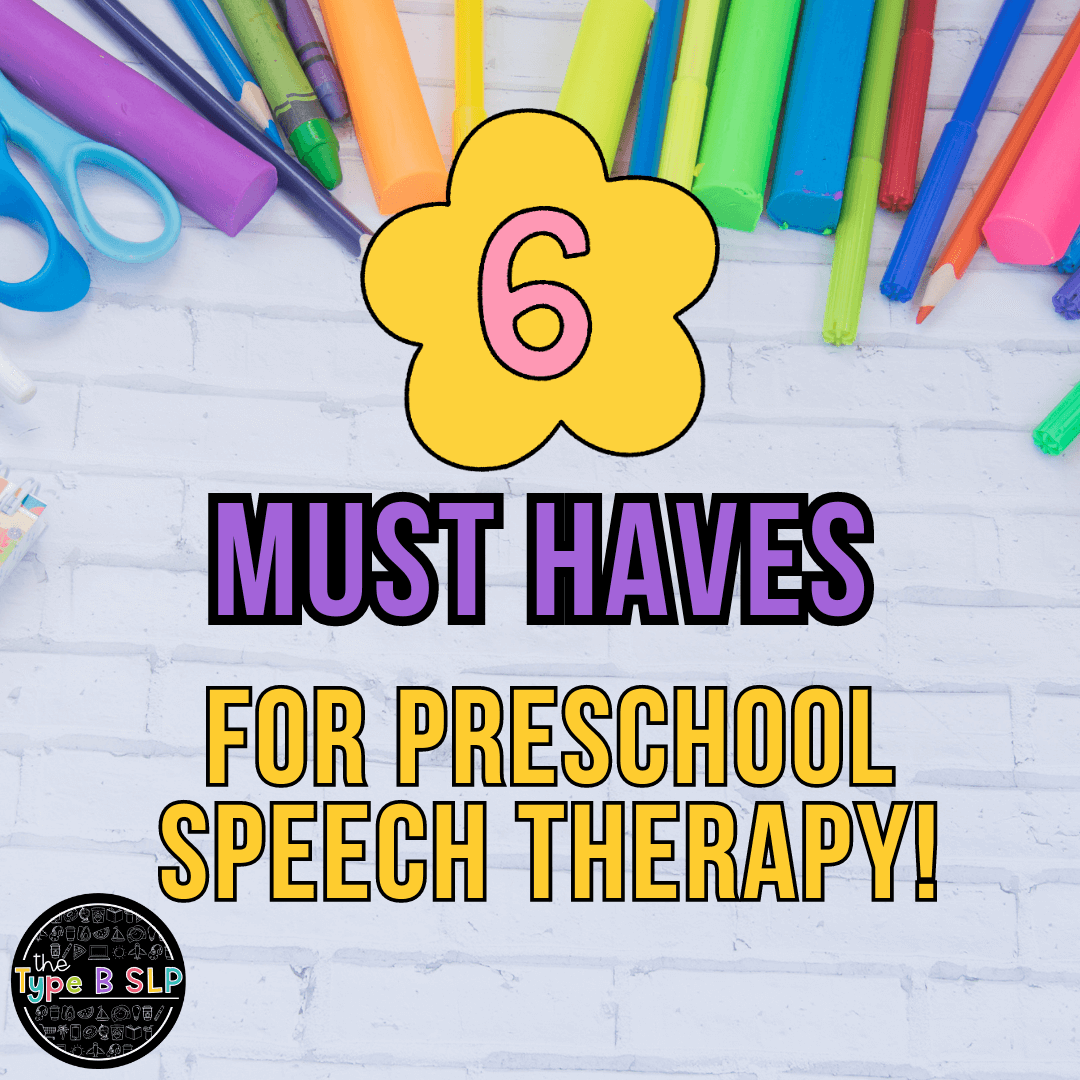 6 Must Haves For Preschool Speech Therapy
6 Must Haves For Preschool Speech Therapy
Preschool SLPs have huge hearts! ♥ Which is why many of our tote bags and car trunks are full of toys and therapy materials for our clients! Streamlining therapy materials is a major struggle in the preK world because preschool speech therapy can cover such a wide variety of essential communication skills! (And, let's be honest, most toys are so darn cute and hard to walk away from!) Streamlining your SLP materials to meet a variety of communication needs can be essential in avoiding excess spending, excess time spent on prep, and burnout. Here's a list of my favorite 6 must haves for preschool speech therapy to help you do just that!
---
Mini Objects
Mini objects are KEY! You can target so many goals with mini objects: vocab building, following directions, speech sounds, prepositions and spatial concepts, etc.! They are perfect for themed therapy! Place them inside sensory bins, use them as characters for story retell, or simply use them as pretend play. They are small so they are easy to store!
Check out my amazon storefront for TONS of mini recommendations!
---
Themed Books
Literacy based therapy is a topic I am SO passionate about! Using books is so important with our early language kiddos! Themed books can enhance a child's vocabulary, providing context for understanding new content and building strong background knowledge. You can also target speech sounds, phonological processes, and apraxia goals with vocabulary in themed books.
In need of ideas for themed books? Check out my amazon storefront for book lists organized by theme!
---
Book Companions
Now you've got your themed books...what next? Pair your favorite read aloud books with book companion activities - core board, vocabulary pics, play-based activities, comprehension questions, social skills, language concepts, and so much more!
Try my themed Seasonal Book Companion Visuals for Speech Therapy with over 100 low prep book companions!
My seasonal book companion bundle includes so many opportunities for play based learning with evidence based practices broken down for you! I've pulled out this quote before in previous posts but I think it's a great reminder about how important it is to pair book reading with guided play to encourage deep vocabulary knowledge!
Check out some of my previous blog posts about different ways to incorporate literacy based therapy into your sessions!
Play-Based Therapy Using your Favorite Read Aloud Books!
Using a dialogic reading strategy in speech therapy
---
Themed Therapy Word Lists
Word lists are a must for preschool speech therapy! Word lists are perfect to have at the ready alongside your themed therapy materials and easy to bring along for the traveling SLP. My Themed Word List Cheat Sheets are a life saver!! They include themed vocab lists, artic & phono word lists, core & fringe vocab, verbs & adjectives, and so much more and can be used alongside ANY themed book, game or activity!
---
Real life Minimal Pair Cards
Creating meaningful speech therapy activities is CRUCIAL, especially for our early language learners! Real life pictures are a GAME CHANGER in creating meaningful therapy, versus miscellaneous clipart and grainy images! Check out my Real Life Minimal Pairs Flashcards for a low prep option for ALL your phonological processes goals! They are easy to bring around for in-class therapy and/or pull-out therapy! Or, simply open them up on your tablet!
---
Sentence Strip Visual Supports
Visual supports for our early language kiddos are essential! Visual supports can help increase MLU, describing skills, grammar, syntax, etc.! Visual supports, like my best-selling Sentence Strip Visuals for Speech Therapy, are perfect for easy traveling. You only have to prep once and they can be used alongside ANY activity, book, craft, and resource! (This bundle even comes in a Spanish version!) If you are looking for visuals specific for describing, my Visual Support Strips for Categories and Describing, are perfect add-ons to my sentence strips!
---
I hope this blog post has given you inspiration for streamlining your preK therapy materials to service a wide variety of goals with our early language learners!!
Until next time!
Abby
👉 Check out my Amazon page (affiliate) for themed book/toy ideas!