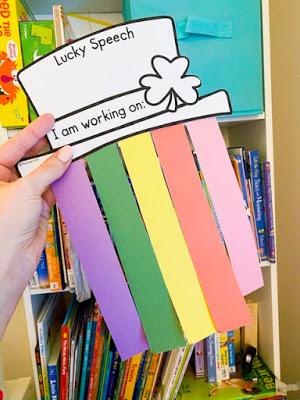 St. Patrick's Day Lessons for Speech Therapy (+ a freebie!)
I have a great freebie for you that you can use tomorrow in speech! It was inspired by my ultimate thematic St. Patrick's Day unit:
---
The freebie is actually pages (+ more) right from my ultimate thematic unit for St. Patrick's Day! (OR you can grab it in the full winter bundle!). I'll be using this freebie with my mini objects and mini erasers. We can work on sorting, describing, requesting, core vocabulary, and more. The freebie targets basic concepts, includes visuals, and sentence frames!
I can't get over how cute these are! My editable visual sentence strips have some great core vocabulary to use with these, as well. Great for describing, too!
If crafts are more your thing, I have a freebie for YOU!
I'll be using this very low prep craft with my entire caseload (I spent 5 minutes cutting up a ton of rainbow strips by stacking the construction paper and just eyeballing the sizes. Students will cut the hat, and I pre-cut a small batch for my preK students). I'll give my students choices of which colors they want, especially for my kiddos working on requesting. I can incorporate basic concepts and describing such as colors, but I can also pair it with my visual sentence strips to expand the craft a bit further. I'll use these mini articulation images from Mommy Speech Therapy, which we'll cut and glue onto the rainbow strips. For my language students, I'll still use the articulation mini images, but I'll utilize them with my visual sentence strips to work on describing, spatial concepts, categories, and function.
Lately, I've been letting my students do their own gluing by using a glue sponge! Find more info on how I made mine by clicking here.
CARRYOVER TIP: Write a quick note on the back of the hat so parents know what to work on. Keep it isolated, such as "pick 5 words below and practice them for 5 minutes right after dinner for 3 nights this week." I like to pinpoint when to practice because it takes the guesswork out of it for busy families!
How could would these look hanging on a bulletin board or in the hallway, too??
St. Patrick's Day Lesson Ideas:
St. Patrick's Day Book Recommendations (click for YouTube read aloud)
St. Patrick's Day Materials Roundup:
If you love easy prep book companions that contain lots of visuals, grab my seasonal bundle, which includes 7 companions for St Patrick's Day, plus TONS of other seasons and holidays!
These easy prep book companions also contain visual companions/retell sheets in task box sizes (4x6 size) so you can take them with you on the go!